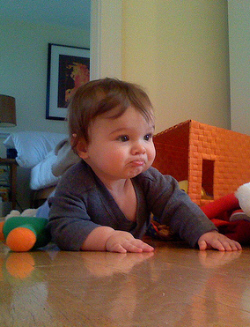 Recently, my husband decided that we needed a steam cleaner. I resisted at first. Why did we need to spend all that money on something when a mop and a rag did just fine? But all the hype and infomercials must have gotten to him and he persisted. Eventually I caved, but I was convinced that I would be selling an unused steam cleaner at my next garage sale.
It isn't often that I admit when I am wrong, but I have to give it to my husband on this one. I love that steam cleaner. As a mother to a baby and a long sufferer of allergies, I don't know how I ever lived without my steam cleaner.
I know that steam cleaning has become the "hot" new thing to do lately. But if you are like me and are just catching on, or if you haven't bought into the hype yet, let me break it down for you. Steam cleaners simply use water to produce super hot steam vapor, which works to remove dirt and stains from multiple surfaces throughout your house. The hot vapor is able to penetrate the porous surface of your floors and other surfaces to weaken the bond between the dirt and your surfaces.  The vapor is hot enough to destroy germs, dust, bacteria, mold, viruses and all the other gross things that you don't want living in your home.
I specifically remember talking my husbands ear off about how we would never use our steam cleaner once the newness wore off. We brought it home and tried it out and were pretty impressed by what it could do. It left our kitchen floors squeaky clean. But I was convinced that it would never be used again.
And again, I was wrong. I am constantly finding new uses for my steam cleaner. Just the other day, I used it to clean the walls of my shower. I couldn't believe how easily the soap scum and water spots came off with steam. I could have scrubbed until my arms fell off and never got my shower that clean.
I use my steam cleaner for everything from the typical jobs like floors and counters to steaming our baby's new car seat before we put him inside. When we got new carpet, we steamed it before we let the baby crawl on it. When we bought a new mattress, we steamed it in case of bedbugs. I can't believe how many times my trusty steam cleaner has been put to good use.
I don't even bother buying harsh chemicals to use on my floors and counters anymore. Before being a mom I didn't mind using chemicals to clean but now it makes me feel good to know that it's safe when my little guy gets the urge to lick the kitchen floor.
Not to mention, the benefits that the steam cleaner has had on our allergies are remarkable. Dirt, dust, and all the other nasty things that clog up our sinuses stick to the rag on the steam cleaner like glue. It is very satisfying to know those particles aren't floating around my house.
So I will say it one more time… I was wrong. Steam cleaning is where it's at. Haven't joined the rest of us in the wonderful world of steam cleaning yet? Lucky for you, Crucial Vacuum offers one of the best steam cleaners on the market along with an extensive line of steam cleaning products. Trust me, you don't know what you're missing.